South Carolina has one of the highest eviction rates in the country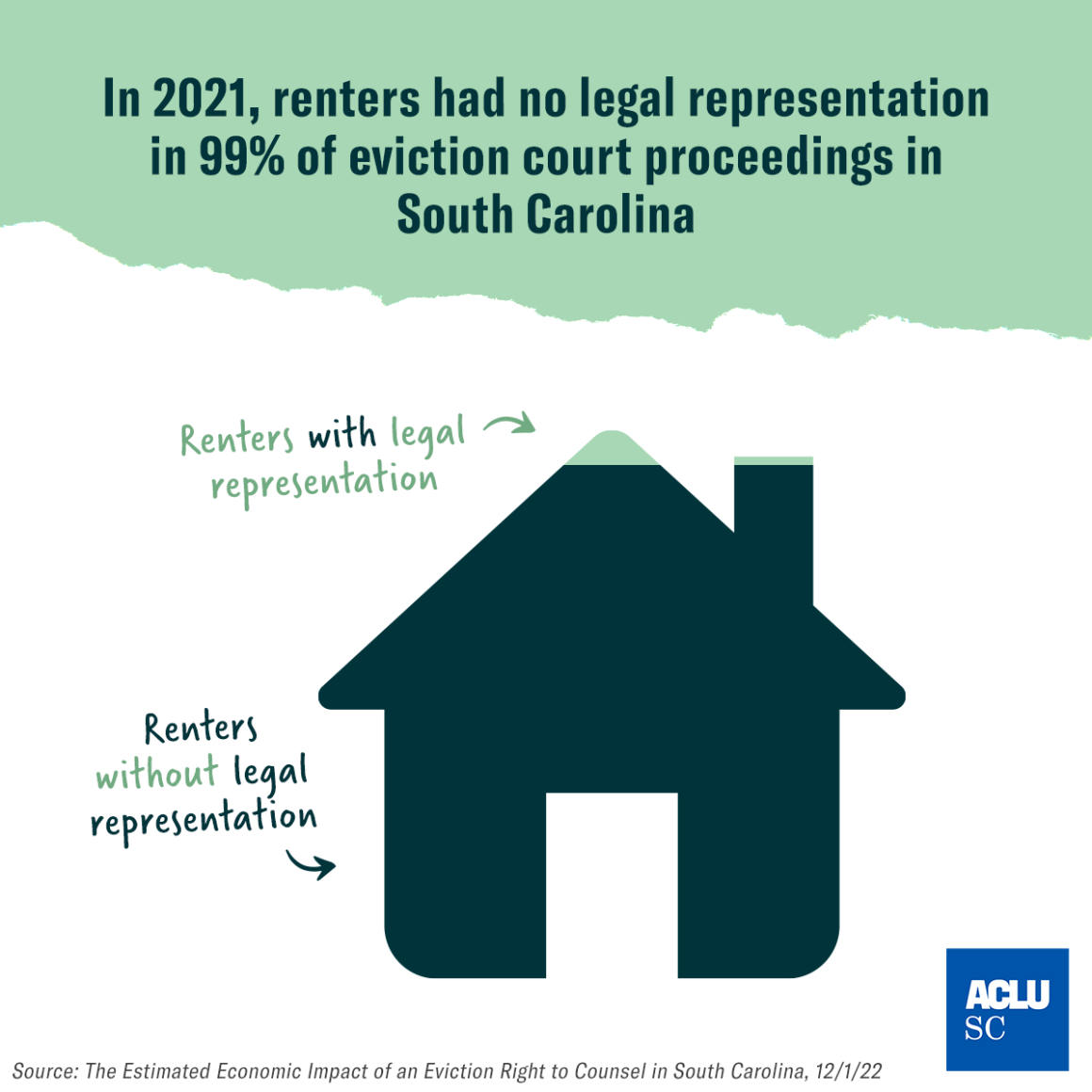 Too often, South Carolinians are faced with evictions that threaten their homes, families, and well-being. Even more often, people facing eviction are left to navigate that legal hurdle by themselves, without legal representation. This systematically sets up tenants to fail, forcing them to leave their homes and leaving them to deal with the devastating, long-lasting impacts of eviction. 
In more than 99% of eviction proceedings, renters have no legal representation, which most often results in the loss of a home which can trigger devastating repercussions for renters and their families including homelessness and poor health and education outcomes.
ACLU of South Carolina partnered with nationally-recognized researchers at global advisory firm Stout Risius Ross, LLC to analyze the cost and benefits associated with an eviction right to counsel for income-eligible renters in eviction proceedings in South Carolina, and the cost savings that could occur if lawmakers enacted such a right.    
---
What is Eviction Right to Counsel?
Eviction Right to Counsel is an enacted law that guarantees eligible tenants will be offered free full legal representation in covered eviction court proceedings funded and enacted through the State legislative process.
Read renters' stories of eviction
---
Everyone benefits when renters have the right to legal counsel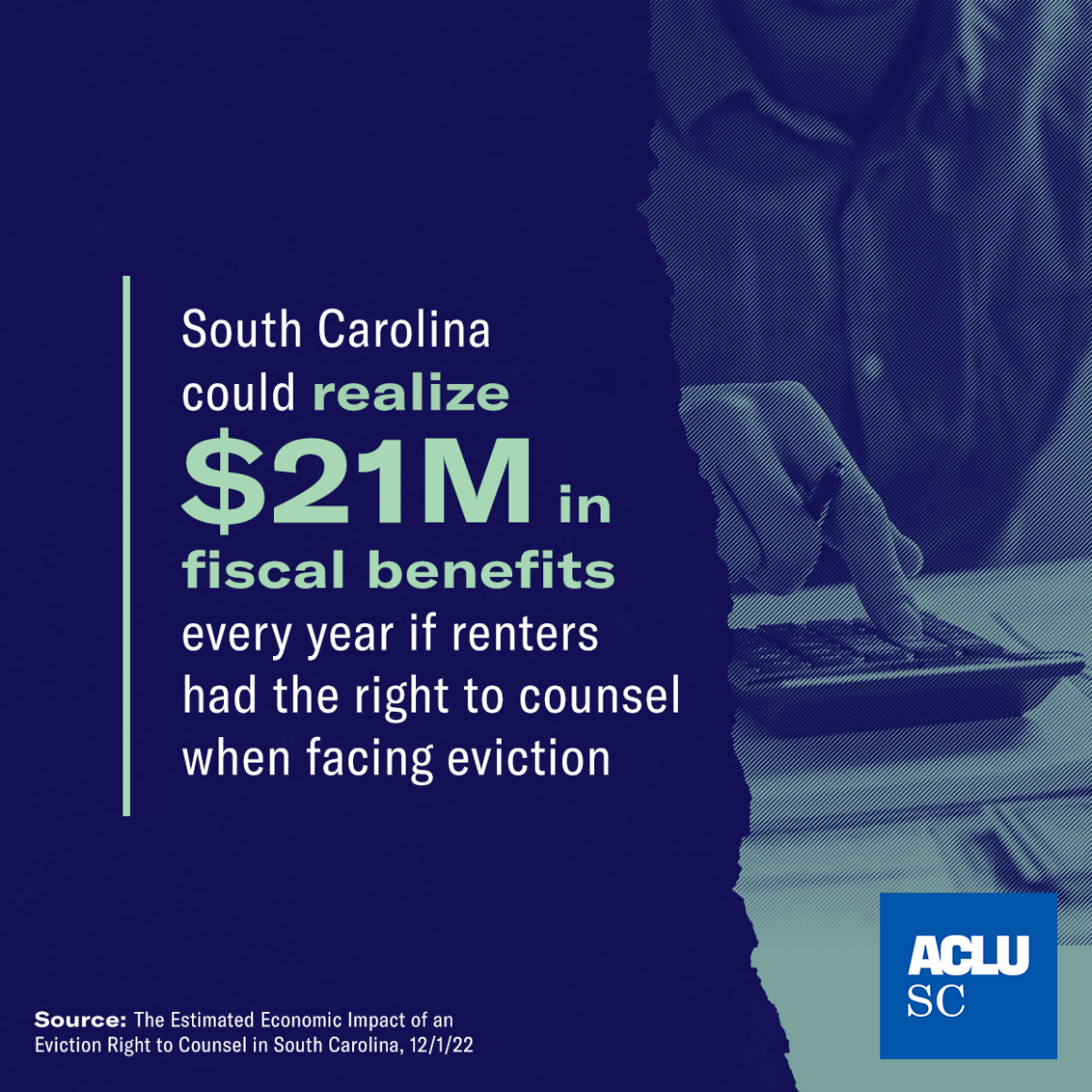 For every $1 invested in a right to counsel program for renters facing eviction in South Carolina, the State could reduce its expenditure by $3.
With an annual investment of approximately $7.2 million to fund right to counsel for renters facing eviction, South Carolina could realize $21 million in fiscal benefits every year for social safety net programs and services.

Based on the average household size of three people, approximately 18,300 South Carolinians could likely avoid a major disruption to their lives each year if renters had the right to counsel when facing eviction.

When renters have legal representation, rental property owners are more likely to receive amounts due without costly collection efforts and renters are more likely to remain housed.
---
The evidence is clear: right to counsel reduces evictions and saves costs
In New York City, which enacted the right to counsel for renters in 2017, 86% of renters with legal representation facing eviction remained in their homes, and eviction filings have declined by 30%
In San Francisco, which enacted the right to counsel in 2018, eviction filings declined 10% in just one year, 67% of renters with legal representation have been able to stay in their homes.
In Hennepin County, Minnesota, fully represented renters were twice as likely to stay in their homes, received twice as long to move if necessary, and were 4x less likely to use a homeless shelter.
In Philadelphia, renters with legal representation stayed in their homes 95% of the time, compared to just 22% of renters without representation
---
Lawmakers have the power to reduce evictions in South Carolina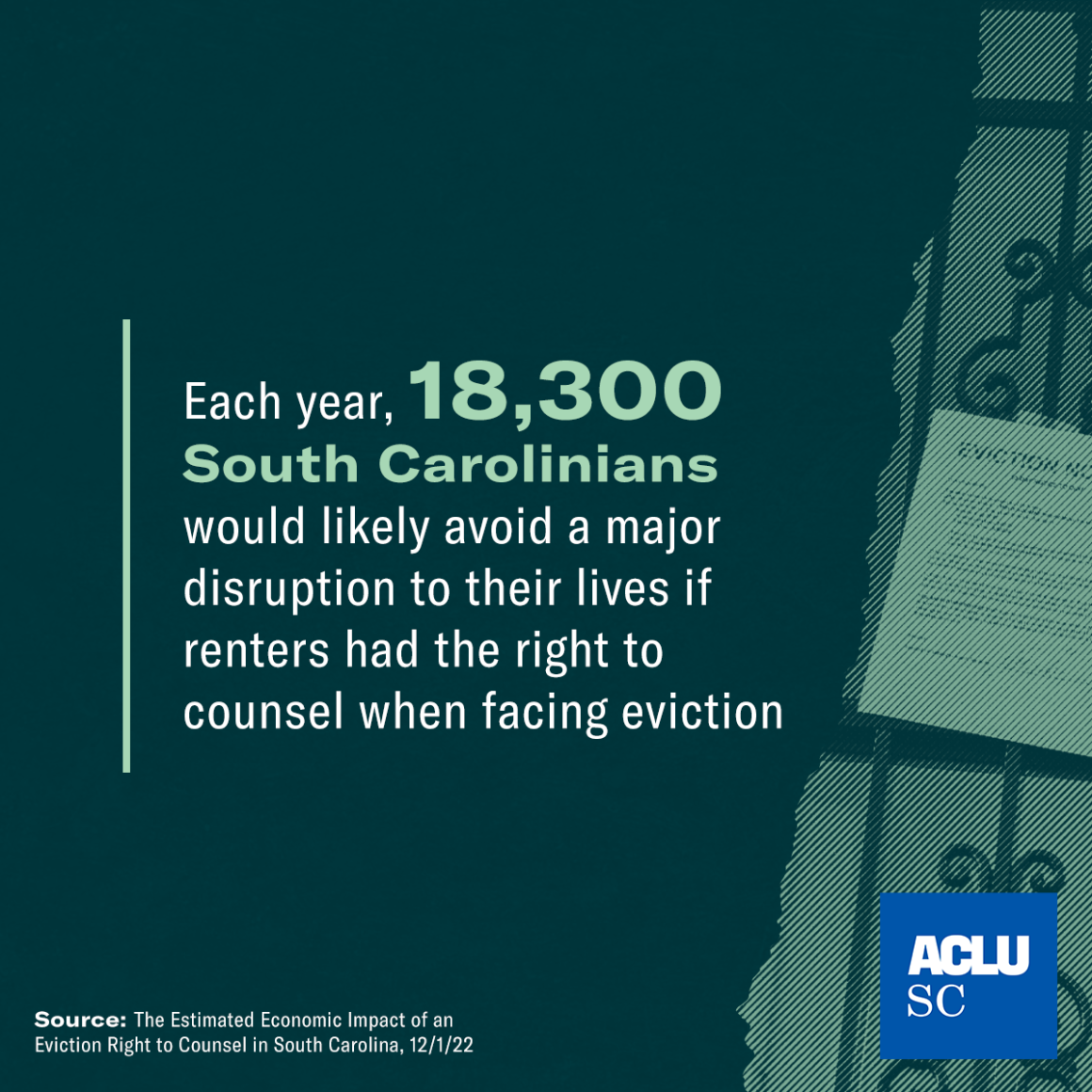 By enacting an Eviction Right to Counsel for renters, South Carolina lawmakers could reduce major disruptions among tenants facing eviction.
Additionally, legal representation can help renters apply for rental assistance, ensure that courts do not proceed with an eviction while such applications are pending, and address situations where landlords refuse to accept the rental assistance. Providing a right to representation allows people and families to keep their homes and communities, and in the time of a pandemic, promotes public health.  
---