We never want to bury the lede, especially one this important. This week (Thursday the 23rd), the Senate Medical Affairs Subcommittee is hearing expert testimony on two anti-transgender bills. Next week, they will hear public testimony, and it's critical that we pack the room in support of transgender youth and their families. RSVP to join us next week, and we will keep you updated on details as they change, make plans to meet up, and provide you tips for testifying.
Senate Medical Affairs Committee Hearing
Wednesday, March 29th
9am — 1pm
Gressette Building (Room TBD)
RSVP Here 
Now, a look at how we ended up here.
Brought to You By the Freedom Caucus
Classroom Censorship: This bill is full of vague language that would prohibit discussions of race, gender, sexual orientation, historic and present inequities in the classroom. Its journey through the House culminated in a lengthy floor debate during which Black lawmakers worked to protect the teaching of Black history via numerous amendments that were consistently voted down. During Black History month, no less. 
Death Penalty for Abortion Access: This bill says, "If you get an abortion, you get the death penalty." And at least 22 lawmakers in our state are on board with the idea. What else would you expect from Freedom Caucus legislators who want to make healthcare access (because abortion is healthcare) a crime punishable by death in a state that is waiting to hear if they can bring back firing squads and electric chairs (you know, since getting hold of lethal injection drugs is a headache unless you guarantee total secrecy to lethal injection manufacturers). During Women's History Month, no less.
Weaponizing the Budget: The budgeting process, where our state government decides how to fund its operations, was comandeered by the Freedom Caucus who used more than 50 amendments to try to push their agenda. How the budget can become a weapon is a bit wonky and very procedural (dare we say boring?), but the takeaway is that a small group of people is willing to use every tool at their disposal to try to advance an extreme agenda that benefits exactly no one. If only Budget History Month was a thing. 
Not Home Grown
These attacks aren't coming from the brilliants minds in the Freedom Caucus; they're straight out of a playbook created by a guy named Christopher Rufo. He's a proud architect of efforts to ban the teaching of critical race theory (not actually happening in K-12 schools) and to undermine diversity, equity, and inclusion programs.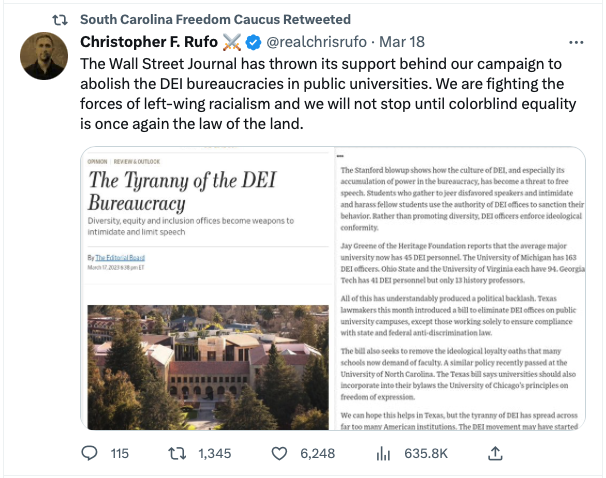 Clearly, the Freedom Caucus appreciates his work; they don't just retweet him, they also endorse his bad ideas. Freedom Caucus members held up a bill to create "Women in Hunting and Fishing Awareness Day" in order to attack transgender women, and they tried to stop a company from creating thousands of jobs in the state because it cares about diversity, equity, and inclusion.
This copy-and-paste cruelty is turning our State House into Washington, DC, where extremists can hijack the policymaking process just to bully people who are different than them. We're grateful for the lawmakers who are pushing back on the Freedom Caucus and trying to solve the state's real problems.